Expect the unexpected in wide-open Autumn Basho
The Autumn Grand Sumo Tournament gets underway on Sunday at Ryogoku Kokugikan in Tokyo.
Like most recent meets this one seems wide open and you could make a solid case for five or even six wrestlers being potential winners at the end of the two weeks.
Yokozuna Kisenosato's return to form and fitness is the most significant storyline heading into the event.
The Ibaraki man, whose 2017 promotion saw him became the first native-born Japanese yokozuna in 14 years, has missed all or part of the last eight tournaments. That's a record for a yokozuna, and with his pectoral tear seemingly not the sort of injury that heals with time it was looking like September would be Kisenosato's last hurrah.
In training this week though the Taganoura Stable wrestler has looked better than at any point over the last year. At the Yokozuna Deliberation Council practice session held at the Kokugikan last Friday, Kisenosato engaged in a number of heated bouts with ozeki Goeido, and while clearly not back to 100 percent did well enough to suggest he can record a double-digit score in the upcoming tournament.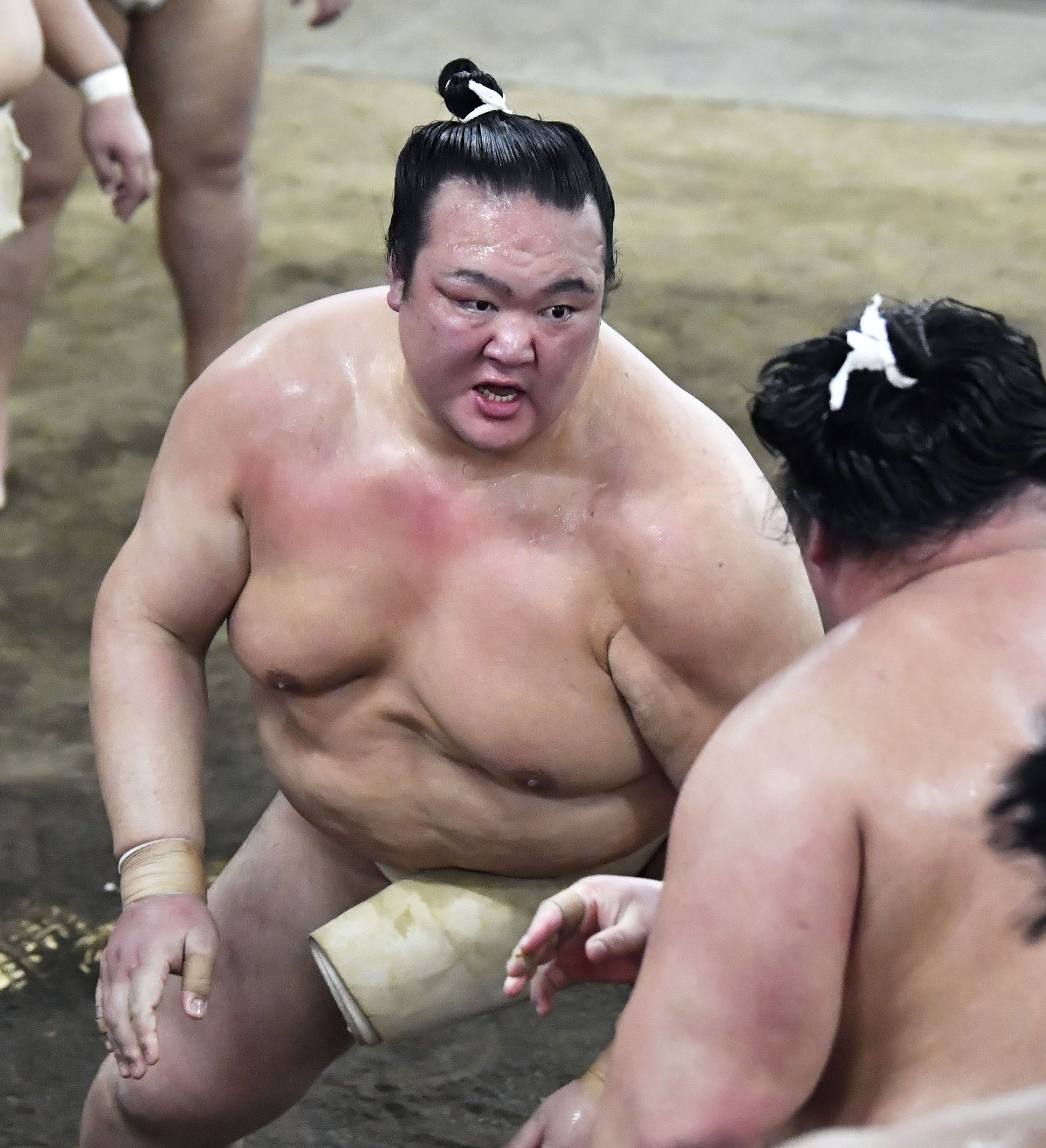 That should be enough to buy Kisenosato more time and stave off calls for his retirement.
Another grand champion who entered 2017 hearing a mounting drumbeat to call it a day seems to be the most likely candidate to lift the Emperor's Cup on Sept. 23.
Yokozuna Kakuryu began the year in a precarious position having not appeared in the ring since July 10.
The Mongolian veteran silenced his critics though with three strong tournaments in a row, including back-to-back titles in March and May.
Kakuryu was dominant in the YDC session, displaying patience, technique and power in bouts against several high-ranked opponents.
Yokozuna Hakuho likewise overwhelmed everyone he faced in that practice, but unlike his fellow yokozuna he mostly limited himself to working out with wrestlers from further down the banzuke.
Arguably the greatest wrestler of all time and the holder of almost every single sumo record of note, Hakuho is clearly in the final stage of his career.
From January 2007 the Mongolian star went eight years without missing a bout, but over the past two years has completed only six of 12 tournaments.
Injuries and age are catching up to the 40-time champion but even though he hasn't lifted the Emperor's Cup in almost a year, a reasonably healthy Hakuho is still more than a match for 90 percent of the men in the top division. If he makes it to the eighth day unscathed, the Ulaanbaatar native will be the wrestler to beat.
One rung down the sumo ladder, the ozeki ranks are in a similar state of flux.
Getting back on track
Tochinoshin is working his way back from the toe injury that derailed his debut tournament in the division.
The Georgia native has had the best year of his life both inside and outside the ring. Becoming a father for the first time, Tochinoshin won his first Emperor's Cup in January, took five special prizes between January and May and was promoted to sumo's second-highest rank after the Summer Basho.
It's been an incredible late career bloom for one of the sport's most popular wrestlers.
When healthy, Tochinoshin is arguably the strongest man in the top division and the development of his technique over the past 12 months has turned him into a force to be reckoned with.
Speaking of health, fellow ozeki Takayasu is clearly not in a good place physically. Mixing good and bad training days, Kisenosato's stablemate's back problems make him a strong candidate to withdraw either just before or soon after the tournament starts.
Takayasu went 9-6 in July, which means he can skip the September meet without any fear of demotion. The 28-year-old is a famously committed and diligent wrestler, however, and is unlikely to pull out unless there is no other option.
The oldest of the three ozeki, Goeido has been tearing it up all the way through the summer regional tour and in pre-tournament practice sessions.
The Osaka native also saves his best performances for September, with his out-of-nowhere 15-0 title run coming exactly two years ago this month.
Goeido also had an 11-4 runner-up effort in the corresponding tournament last year and could be a dark horse for the title again this time out.
While the Sakaigawa Stable grappler lifting the Emperor's Cup for a second time might seem unlikely, sumo is clearly in a transition period that should see more surprise champions emerge.
When Hakuho claimed his record 40th title at the end of 2017, you would have gotten incredible odds on Tochinoshin and Mitakeumi both winning tournaments before the yokozuna did so again.
Historically speaking, though, periods with multiple serious contenders battling it out for each title are more the norm. From what we've seen over the past 15 years with first Asashoryu and then Hakuho, sweeping up title after title is the anomaly.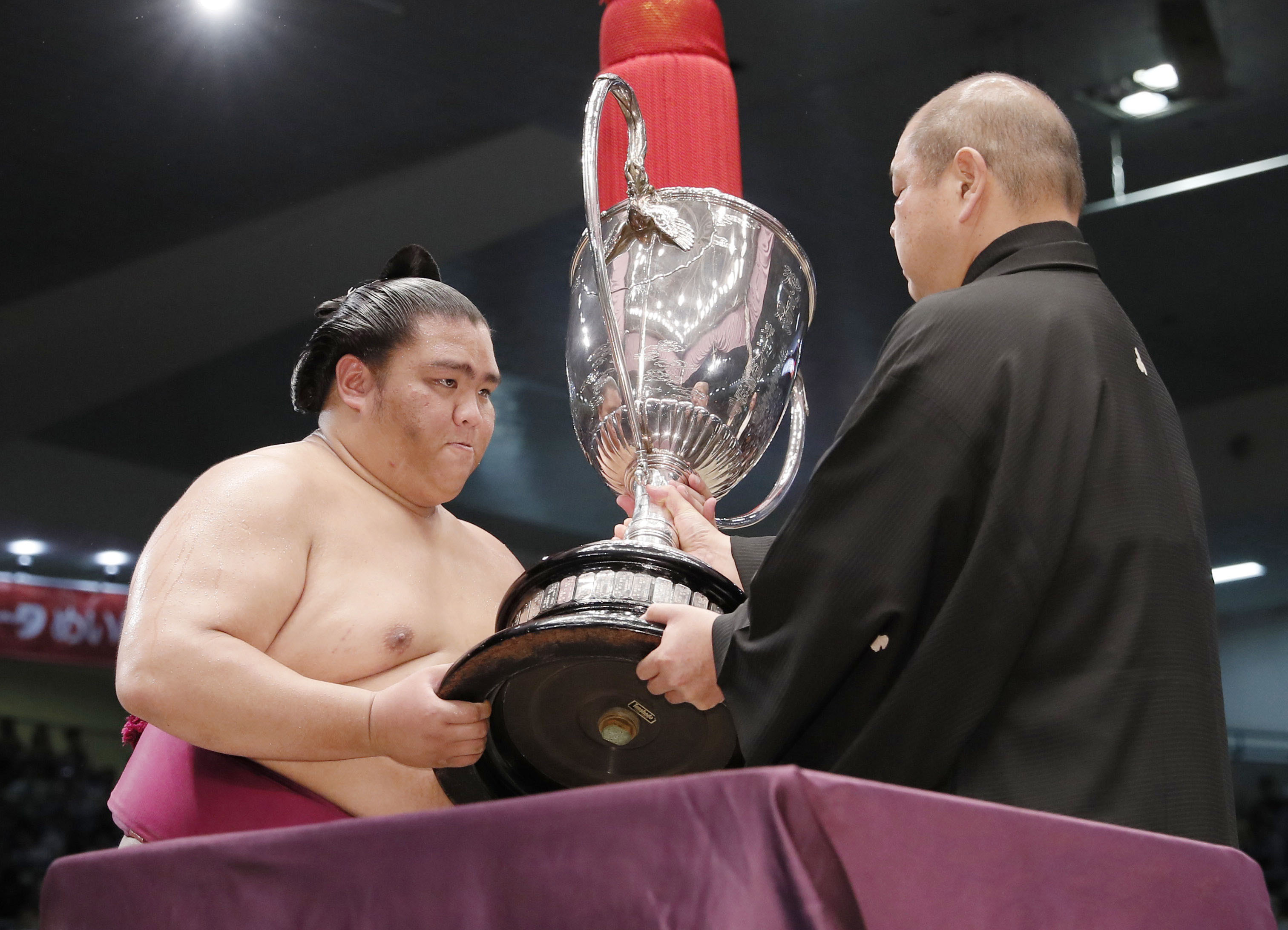 Summer fatigue
The length and intensity of the aforementioned regional tour combined with the record-breaking temperatures Japan has been experiencing this summer has also taken a toll on the wrestlers.
Long, cramped bus rides every night and a menu heavy on processed and fried food isn't ideal when you are an elite athlete trying to maintain a high level of conditioning. While tough for everyone, the more senior men are harder hit, meaning the young up-and-comers should in theory be better prepared (or at least less exhausted) heading into the September meet.
Speaking of the young guns: Mitakeumi, the winner of the July tournament, continues to play the role of punching bag in training so it's difficult to get a read on just how likely he is to get the 11 or 12 wins needed for promotion to the ozeki ranks.
Mitakeumi put in an excellent performance in Nagoya but it's hard to shake the feeling that his 13-2 title would have been just a strong 10- or 11-win effort had the three yokozuna and Tochinoshin been present.
You can only beat the man in front of you, however, so let's not take too much away from Mitakeumi's championship.
The Nagano native did actually go 11-4 in January 2017 when faced with a full slate. That record included wins over an ozeki and two yokozuna as well as several other high-ranked wrestlers, which bodes well for his promotion chances.
Two longtime rivals of Mitakeumi from his amateur sumo days, Asanoyama and Yutakayama, also achieved outstanding records in July.
Of the two, Yutakayama to my mind has the greater potential. The 24-year-old Niigata native had a successful college career that could have been a lot better were it not for lapses in concentration in key bouts.
Oyanagi, as he was known back then, seemed to suffer from overconfidence when facing other big-name opponents, losing many bouts he should have won.
If he can stay focused and keep the mental side of his game on track, Yutakayama has the physical tools to go all the way to ozeki.
Hokutofuji, Onosho and Takakeisho all finished with double-digit winning records in July as well and perhaps in years to come we'll look back on this year's Nagoya tournament as the one when the generational shift occurred.
New top-division entrant
The top division has just one new entrant this time out. Takanosho from Chiganoura Stable has been in sumo for eight years but is still just 23. It's taken him some time for his frame to fill out and for him to learn his craft, but the Chiba native is now coming into his own and has looked very impressive whenever I've seen him training.
One 28-year-old rikishi will also make a significant return to the top division.
Takanoiwa is back in makuuchi for the first time since the infamous karaoke bar brawl in November that led to the forced retirement of yokozuna Harumafuji and the subsequent standoff between stablemaster Takanohana and the Japan Sumo Association.
Takanoiwa's return is a story that normally would receive more column inches, but with several top-level veterans also making comebacks and a whole host of exciting new wrestlers on the rise focus is elsewhere and that's no bad thing.
It's hard to say whether one of those young hotshots will be the latest to see his name engraved on the Emperor's Cup, or if someone like Kisenosato can cap a fairytale return by taking the title.
Either way, the Autumn Grand Sumo Tournament — as with all meets this year — promises to be exciting and dramatic from the first day to the last.
Sumo techniques
The Japan Sumo Association defines 82 kimarite (winning techniques) and five non-techniques (way to lose). Here are 10 techniques you may see during the Autumn Grand Sumo Tournament. For more techniques, stay tuned for future basho previews.
SACHIKO ASUKA ILLUSTRATIONS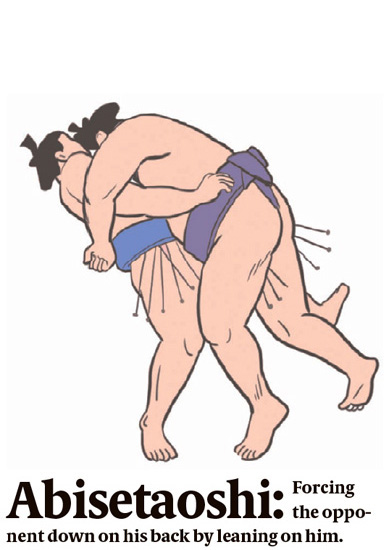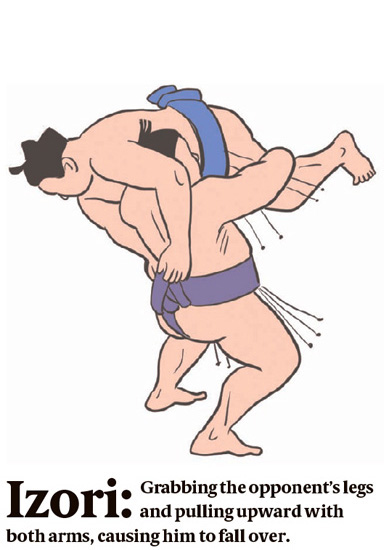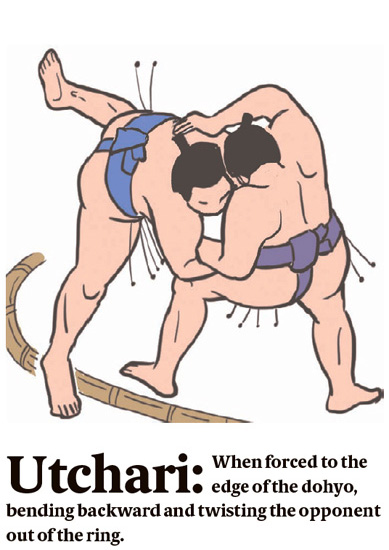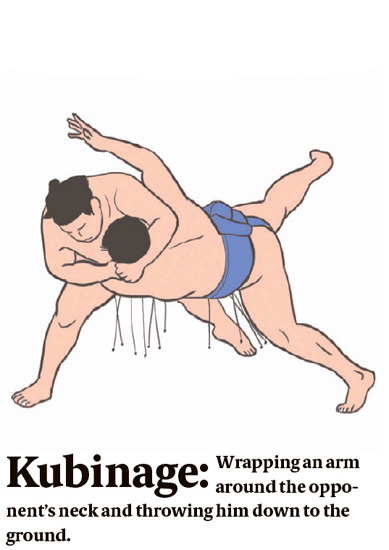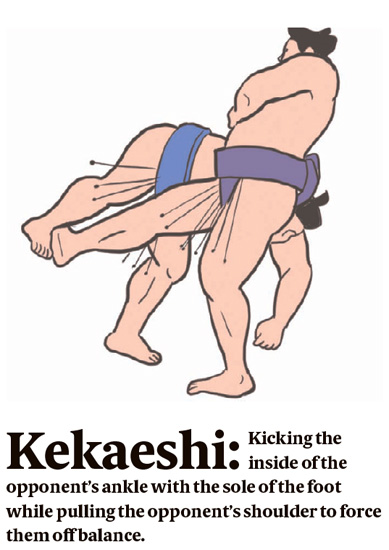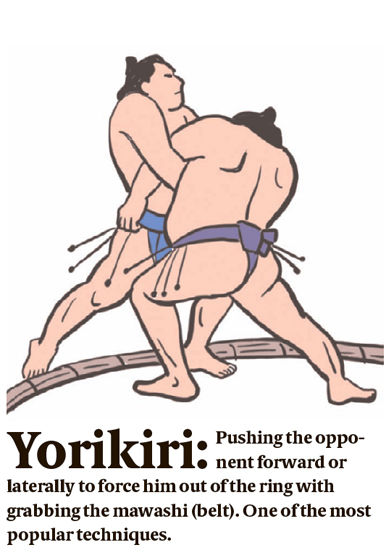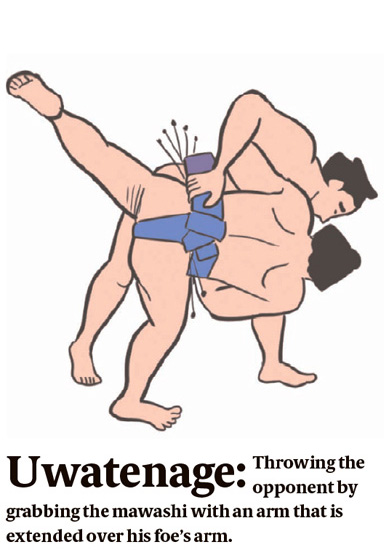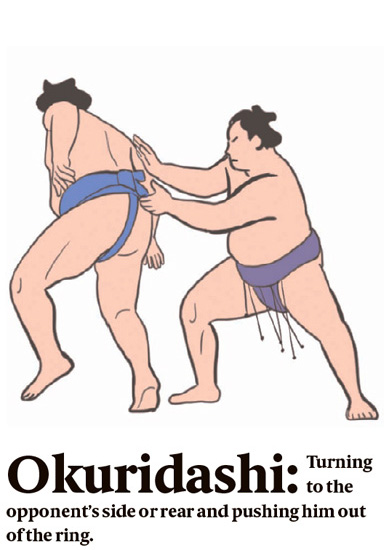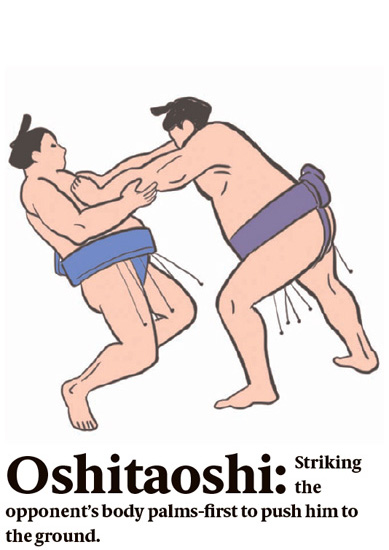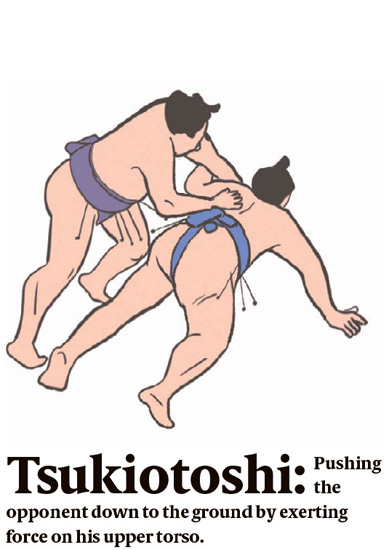 Autumn Basho line-up
Listed info is: rikishi name, stable, home prefecture or country (birthday in parentheses), ranking and record of previous tournament (Y=Yokozuna,O=Ozeki, S=Sekiwake, K=Komusubi, M=Maegashira, J=Juryo. Records are shown as won, lost and rest days) and notes.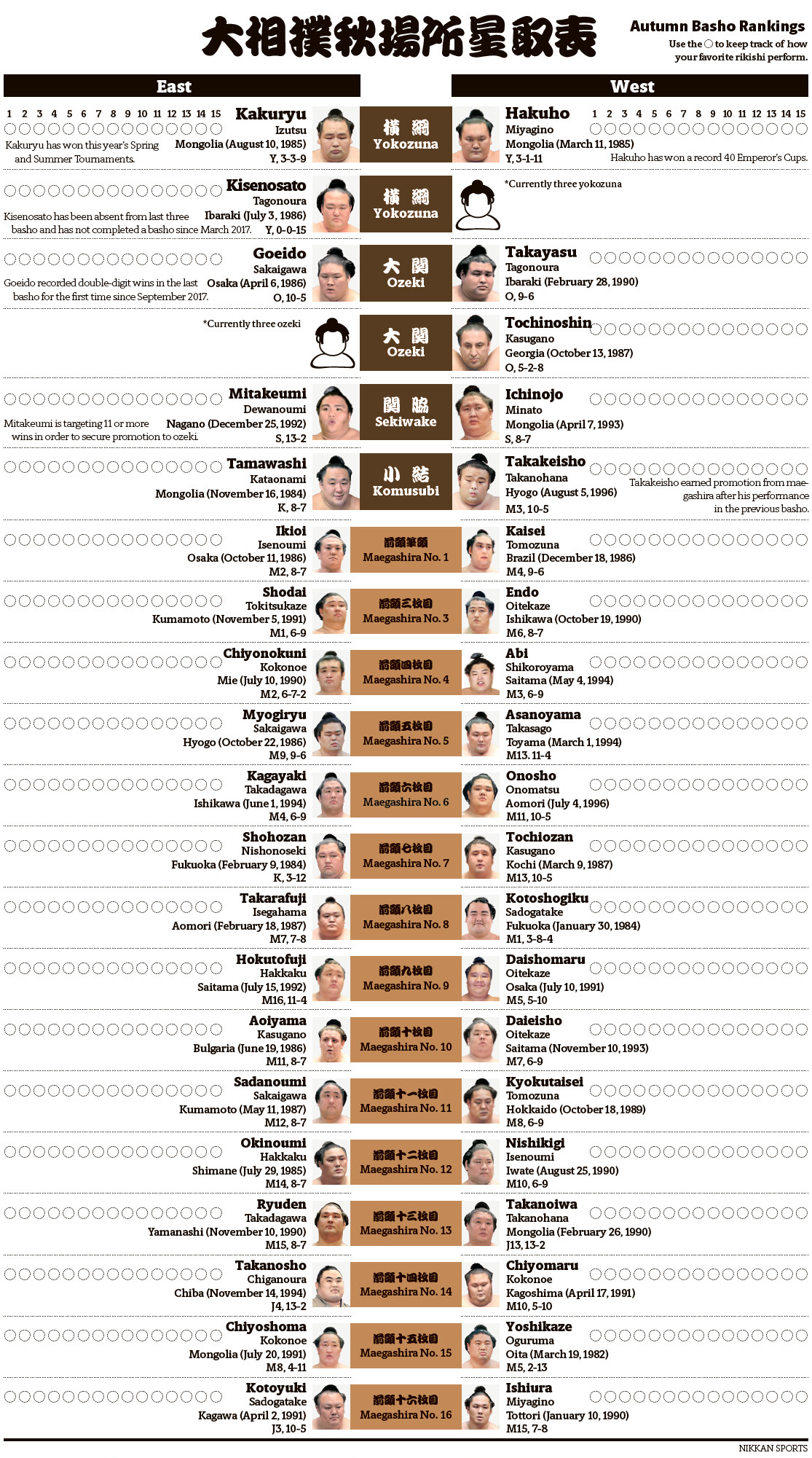 ---
Download a PDF wall chart of the Autumn Basho Rankings.